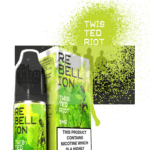 TWISTED RIOT By Rebellion
£3.95 – £13.00
Description
Additional information
Reviews
Description
TWISTED RIOT
A interesting twist on your classic ice lolly, it is a combination of strawberry, lime and cream.
Rebellion
Rebellion e-liquid is available in 3mg 10ml and 0mg in a 50ml short fill bottle.
The Rebellion range is 80/20 VG:PG – 'High VG'.
All 10 flavours are available in 3mg 10ml bottles.
10ml Nic Ammo nicotine shots also available to create a higher strength Rebellion liquid which can be done in 3 easy steps.
How to mix flavours and Nic ammo
1. Choose one of our unique 50ml flavour bases and a 10ml NIC AMMO2. Empty the entire bottle of 10ml NIC AMMO into your 50ml flavour base
3. Give it a good shake, wait for the bubbles to disappear and vape