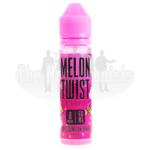 Melon Twist Chilled Melon Remix 50ml 0mg
£15.00
Description
Reviews (0)
Reviews
Description
Melon Twist Chilled Melon Remix
Consists of our classic honeydew melon chew with an added cool breeze. Guaranteed to cool you under the warm Cali sun.
Melon Twist E-liquids are a premium range of high VG, melon themed juices from Twist E-Liquids. Each bottle comes nicotine free with 50ml of juice in a 60ml bottle. For a 3mg e-liquid we advise adding 10ml of 15mg Just Nic It nicotine shot.
---
Only logged in customers who have purchased this product may leave a review.